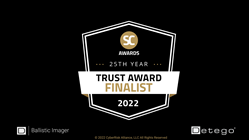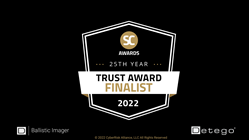 "Our finalist position with the SC Awards is confirmation that the Detego Unified Forensics Platform and Detego Ballistic Imager is delivering the kind of technology today's investigators really need." – Andy Lister (Managing Director, Detego Global)

HORSHAM, United Kingdom (PRWEB)
June 21, 2022
Detego Global, creators of the acclaimed Unified Investigations Platform, today announced that Ballistic Imager has been recognised as a Trust Award finalist in the Best Computer Forensic Solution category for the 2022 SC Awards. Now in its 25th year, the SC Awards are cybersecurity's most prestigious and competitive program. Finalists are recognised for outstanding solutions, organisations, and people driving innovation and success in information security.
After an extensive judging process, carried out by a world-class panel of industry leaders from sectors including financial services, consulting, healthcare and manufacturing, Detego's globally patented forensic imaging technology, Ballistic Imager was picked as one of the five finalists for this coveted award.
The 2022 SC Awards were the most competitive to date, with a record 800 entries received across 38 categories – a 21% increase over 2021. This year, SC Awards expanded its recognition program to include several new award categories that reflect the shifting dynamics and emerging industry trends. The Trust Award categories recognise solutions in cloud, data security, managed detection and more.
"Detego's Ballistic Imager and other Trust award finalists reflect astonishing levels of innovation across the information security industry, and underscore vendor resilience and responsiveness to a rapidly evolving threat landscape," said Jill Aitoro, Senior Vice President of Content Strategy at CyberRisk Alliance. "We are so proud to recognise leading products, people and companies through a trusted program that continues to attract both new entrants and industry mainstays that come back year after year."
Detego has already earned a strong reputation in the digital forensics and security landscapes, thanks to its innovative approach to 21st century incident response. Ballistic Imager is just one component of the powerful end-to-end Unified Forensics Platform from Detego, an ecosystem of tools currently used by enterprise organisations, law enforcement and military groups worldwide.
Detego's patented Ballistic Imager technology offers ultra-fast acquisition times to help investigators to collect data at speed (enabling the extraction of 1 TB in less than 8 minutes – 4 x faster than the industry average). The technology works in any environment, is forensically sound with SHA256, SHA1, and MD5 validation, and is portable for on-the-field extraction and analysis.
Ultra-fast and compact, Detego Ballistic Imager fits in your pocket, enables the recovery of deleted data, and allows users to stop extractions before completion without losing data. It splits the imaging process across multiple collectors, using all available ports in either a "boot" or "live" state.
As companies, law enforcement agencies, and government groups continue to face increasing attack vectors and risks from a host of environments, digital forensic tools are more valuable than ever. Detego's Ballistic Imager aims to empower teams wherever they are, with access to the accurate, complete, and crucial information they need to manage incident responses.
Recognition in the SC Awards, particularly at this incredible time in the Award group's history, demonstrates just how impactful Detego's technology can be.
Sharing his thoughts on the selection, Detego's Managing Director, Andy Lister said: "Our finalist position with the SC Awards is confirmation that the Detego Unified Forensics Platform and Detego Ballistic Imager is delivering the kind of technology today's investigators really need. We will continue to work closely with investigators across all key sectors to ensure our solutions remain inspired by their requirements and continue to support them by delivering the solutions they need."
This recognition comes as Detego Global's second accolade this year. The company's Field Triage solution was recognised with a UK Security Innovation award earlier this year for playing a crucial role in simplifying the investigative process for first-line responders in time-critical situations. Field Triage enables investigators in lab and field-based environments to rapidly scan devices for suspicious materials by automating time-consuming data extraction and analytical processes and get alerts through a patented red-amber-green alert system.
Winners will be announced during SC Awards week, scheduled to begin on August 22, 2022. A Meet the Winners networking reception celebration will take place during InfoSec World 2022, September 27th in Orlando, Florida.
For more information on Detego's Unified Investigations Platform, or to request a free-trial visit http://www.detegoglobal.com
Share article on social media or email: