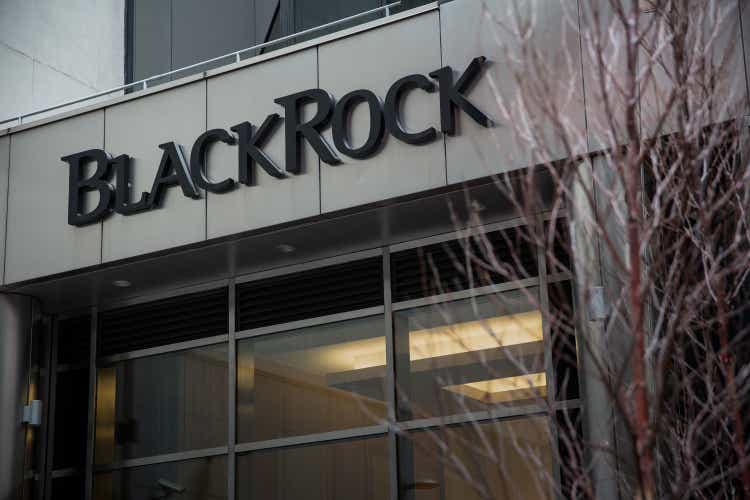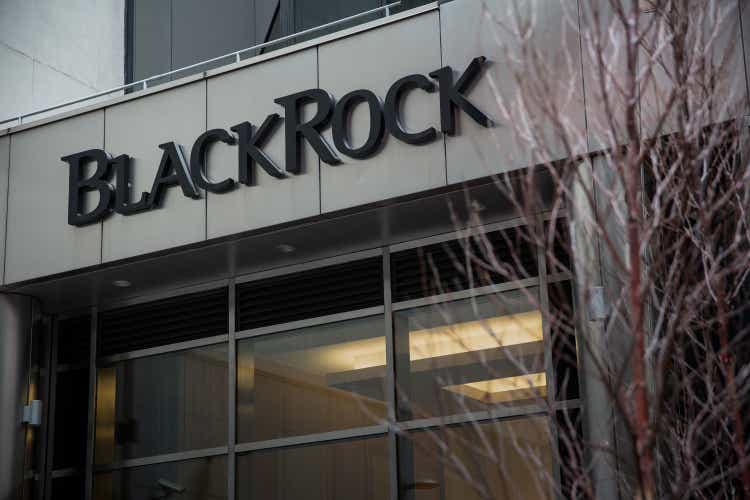 We believe current prices represent a solid entry point for investors interested in BlackRock (NYSE:BLK). BlackRock rarely gets cheap, so it is important to seize the opportunity when it presents itself, usually during market downturns like we have been experiencing recently. As we'll see, we believe there is still plenty of growth ahead for this asset manager, in terms of revenue growth, AUM growth, and earnings growth.
In fact, BlackRock is accelerating its growth relative to its industry, thanks to its competitive advantages, therefore increasingly taking market share. And the bigger BlackRock becomes, the more it can afford to offer low prices, invest in technology, and keep the growth flywheel going. The two main sources of its competitive moat are its strong brand, and its low-cost advantages derived in large part from its massive scale. As can be seen below, BlackRock is accelerating its growth relative to its industry, whereas in 2016 it was growing 50% faster, in 2021 it was growing almost at twice its industry.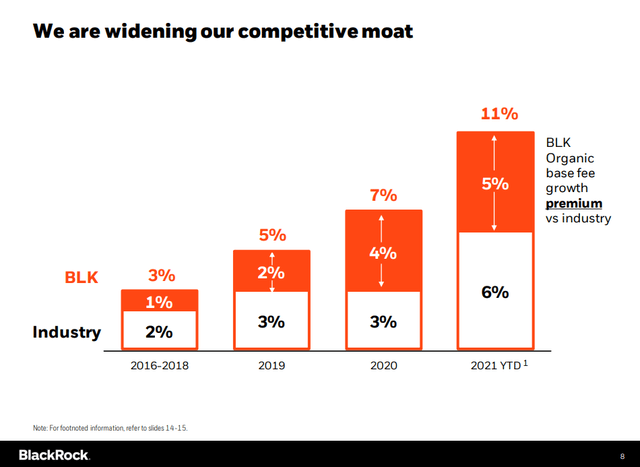 Growth
Growth has been impressive for a company of its size. In the last ten years, it has more than doubled revenue, from ~$9 billion to almost $20 billion.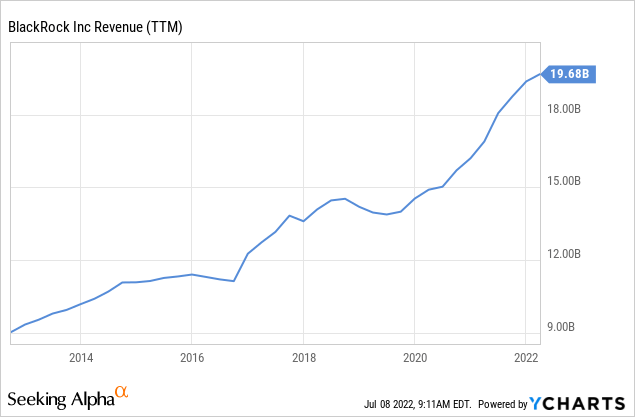 And its framework to deliver shareholder value has multiple levers to generate earnings per share growth besides organic revenue growth. That includes operating leverage and capital management, mostly through share repurchases.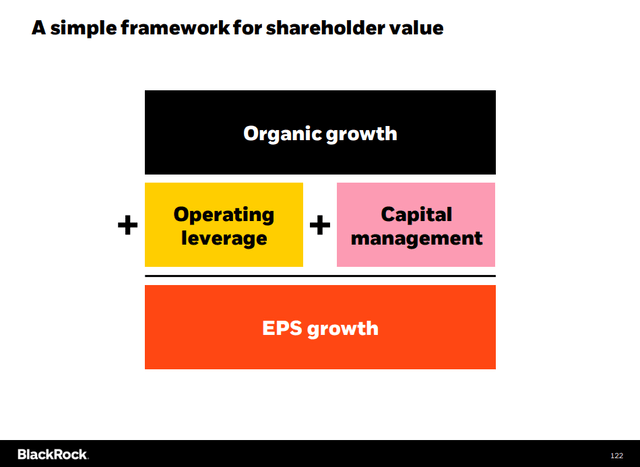 Over the last ten years, revenue has grown at an average of ~8.8%, but its earnings have grown at almost twice this rate.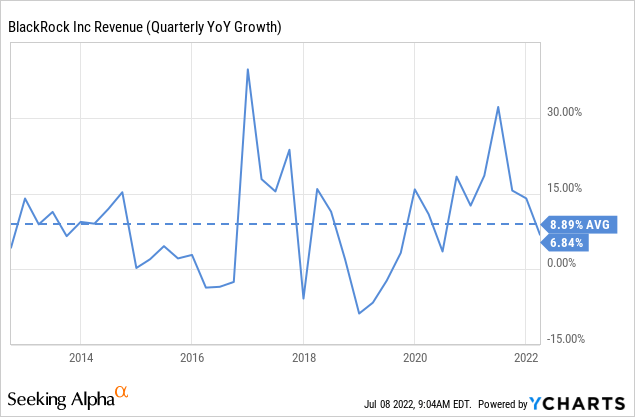 Its diluted earnings per share have grown at an average of ~15%, which has provided the fuel for shares to propel higher.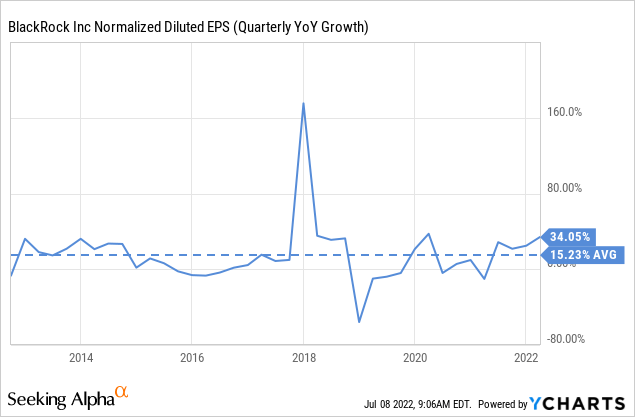 Some of the things that have made this incredible growth possible are an increase in assets under management from $3.8 trillion in 2012 to ~$9 trillion today. Its risk management platform Aladdin with its related tech services revenue has increased from around $390 million in 2012 to ~$1.1 billion today. This has only required an increase in headcount from 10,500 in 2012 to 16,500 today, helping deliver operating leverage.
Given the still relatively low AUM penetration of ETFs, it is possible that BlackRock will continue delivering outstanding growth for many more years. ETFs currently represent ~5% of the global equity market, and only ~1% of the global bond market.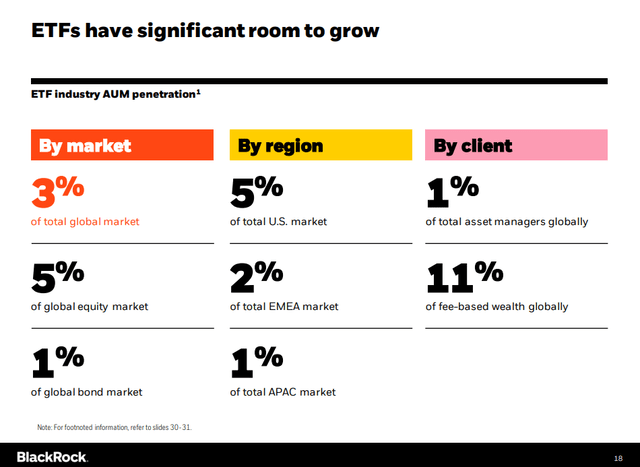 Beyond ETFs, BlackRock has other growth vectors. For example, its alternatives business has already grown to ~$297 billion and generated $2.4 billion in revenue in 2020. This makes BlackRock a top 5 player in this market segment. Investors are expected to significantly increase their allocations to alternatives going forward, so this business is set to grow very quickly in the next few years.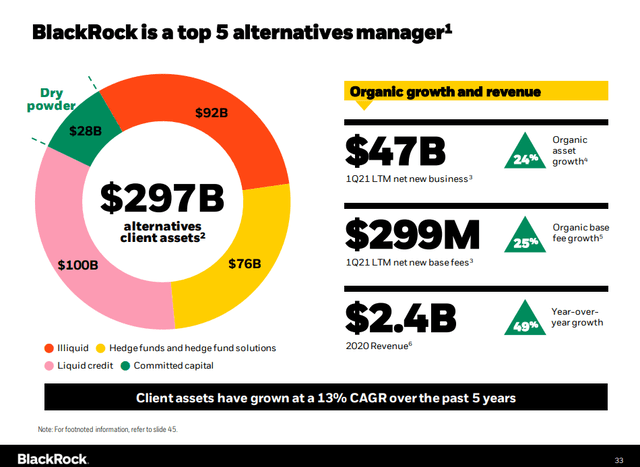 Despite being known mostly for its ETFs, BlackRock is also an important active asset manager. Active strategies make up ~25% of BlackRock's AUM, but make-up around half of its revenue, given that active strategies normally charge much higher fees. Since BlackRock has delivered significant Alpha in many of its strategies, investors tend to accept these higher fees. BlackRock estimates that investors receive a multiple of fees in alpha delivered.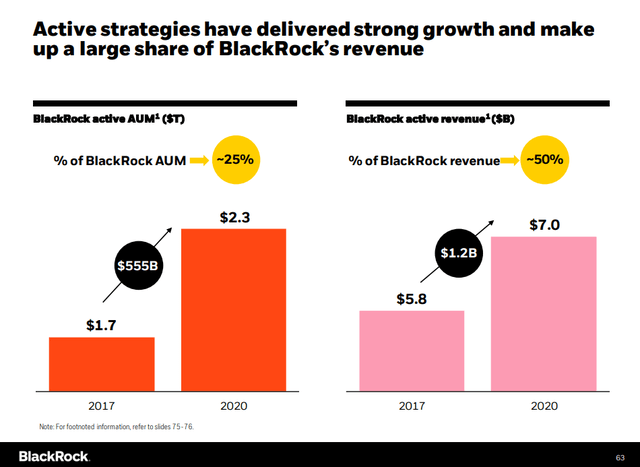 Valuation
Shares are currently trading with what we consider to be a very attractive valuation. The EV/EBITDA multiple is significantly below the ten-year average, even if the forward multiple is a little bit higher as analysts expect an earnings dip.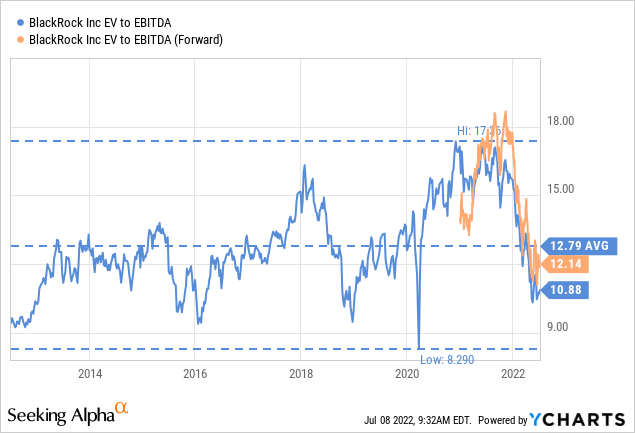 The price/earnings ratio is also below the ten-year average of ~18x at around 16x. For such a high-quality business, we find this to be an attractive multiple.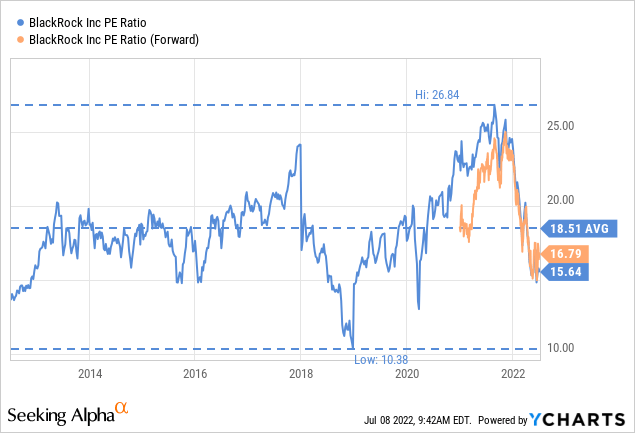 Taking a look at shareholder returns, the dividend yield is now above its ten-year average of ~2.4%, and the net common payout yield, which adds the percentage returned through net stock repurchases, is very close to its ten-year average of ~4.85%.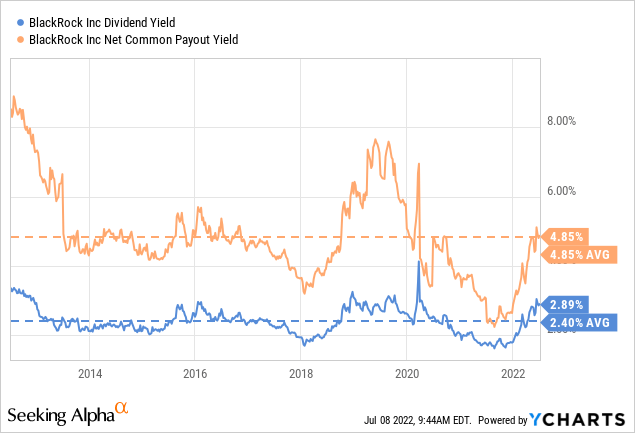 We estimate the net present value of earnings to be $903, which means shares are trading at roughly a 30% discount to our estimated fair value. For the next three years, we use analyst estimates, and we assume a 12% growth until FY2032 which is slightly lower than the 15% EPS growth rate the company delivered the previous decade. We discount everything using a 10% rate and assume a GDP-like terminal growth rate of 3%.
| | | |
| --- | --- | --- |
| | EPS | Discounted @ 10% |
| FY 22E | 37.08 | 33.71 |
| FY 23E | 41.74 | 34.50 |
| FY 24E | 45.06 | 33.85 |
| FY 25E | 50.47 | 34.47 |
| FY 26E | 56.52 | 35.10 |
| FY 27E | 63.31 | 35.73 |
| FY 28E | 70.90 | 36.38 |
| FY 29E | 79.41 | 37.05 |
| FY 30E | 88.94 | 37.72 |
| FY 31E | 99.61 | 38.41 |
| FY 32 E | 111.57 | 39.10 |
| | | |
| Terminal Value @ 3% terminal growth | 1593.81 | 507.84 |
| | | |
| NPV | | $903.86 |
Risks
There are three main risks we see with an investment in BlackRock, one is reputational risk, given how important brand and reputation are in the asset management industry. Second, competition could intensify, driving returns lower for all participants. The third important risk we see is an extended equity and debt market downturn, given that most of the fees BlackRock charges are based on asset values.
Conclusion
BlackRock has significant competitive advantages that are helping it take market share from competitors at an increasingly fast rate. It has a number of tailwinds in its favor, including the growing acceptance of ETFs by different market participants, and growth in new markets such as fixed-income. It also has fast-growing businesses in Aladdin which offers risk management services, its active management strategies, and its fast-growing alternatives business. We estimate shares to be about one-third undervalued and believe this is one of the rare instances in which shares can be bought at a very attractive price.